April 1989
Print
St. Louis de Montfort A Saint for Our Times
by Carol S. Navarra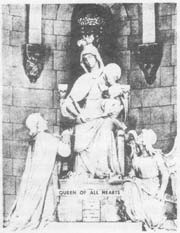 For St. Louis Marie DeMontfort, the rosary was that perfect prayer of which he had made himself the apostle. Louis Marie Grignion was born to John and Jeanne Grignion on that blessed day of January 31, 1673, in the little town of Montfort-la-Canne. Like his father, the youngster had a quick temper, but almost from the time he could talk he showed remarkable signs of self-control. Louis, the eldest of eighteen brothers and sisters, was to outshine them all by his outstanding holiness.
At 12 years of age Louis was sent to the College of St. Thomas á Becket, in the city of Rennes, under the direction of the Jesuit Fathers. Due to his brilliant mind and memory he walked off with honors year after year, and acquired a surprising degree of holiness at a college of 2,000 students, which is ordinarily no school of virtue. His holiness was due to his deep devotion to the Blessed Virgin, for whom he was to become such a fiery and glorious apostle.
Around 1695, he entered the seminary of St. Sulpice, where he ran across the book of Father Boudon, The Holy Slavery of the Admirable Mother of God, and was so enthralled by it, that later he embodied the substance of it in his own Marian masterpiece, True Devotion to the Blessed Virgin, and had consecrated himself entirely to Jesus through Mary. His other Marian Masterpiece, Secret of the Rosary, is one of the most widespread of his devotional works. In it he emphasizes how the Blessed Virgin revealed to Blessed Alan de la Roche, that after the Holy Sacrifice of the Mass, that there is nothing in the Church that she loves as much as the rosary.
Louis was ordained a priest in 1700, at the age of 27, and said his first Mass in the chapel of the Blessed Virgin in the church of St. Sulpice. Those who assisted at this Mass said, "he looked like an angel at the altar."
He entered the Priesthood when Jansenism was prevalent. This gave him many battles with the clergy of his day who were not opposed to Jansenism, or not willing to resist it. Jansenism hated devotion to the Blessed Virgin, claiming it would destroy devotion to the Father, Son and Holy Ghost. Louis' answer to this lie rang out clear and strong his whole life long, "How can they obtain Wisdom unless they go to the seat of Wisdom?" Wisdom to them, was the wisdom of the world— as it is to this generation.
St. Louis DeMontfort's real work began in the year 1705, with not a moment to lose—he never lost a minute, preaching missions and giving retreats. His first Mission was at Montbernage, a suburb of Poitiers, which was in a section of town where the people were poor, ignorant and neglected. But the shabbiness of his cassock and his worn-out boots, showed that he was as poor as any of them. He spoke in the streets until he had turned an old bam (a former dance hall), into a chapel in honor of Our Lady Queen of All Hearts. When he left Montbernage everyone said the rosary every day. "There is nothing more powerful in bringing Divine Wisdom down into us," he explained, "than the welding of mental and vocal prayers in the rosary, uttering the prayers and meditating on the mysteries. Saying the rosary is the best way of praising Jesus in Mary—and through Mary." Our Blessed Lady told Blessed Alan, "When you say your rosary the angels rejoice, the Blessed Trinity delights in it, my Son finds joy in it too and I myself am happier than you can possibly guess."
His powerful voice, his imposing physique, and his magnetic holiness worked wonders everywhere. Love of our Blessed Lady and her Divine Son in the Blessed Sacrament, love of the Cross and the rosary—these could not fail to convert the most hardened sinners.
Father DeMontfort's conduct was above reproach, and his preaching brought people back to the church in droves, but his enemies were implacable and hammered away at him constantly. They finally succeeded in persuading Bishop de la Poype to ask him to leave the diocese of Poitiers at once. Since he could no longer preach he went to Rome to consult with the Holy Father, Pope Clement XI, and expressed his desire to go to the foreign missions. The Holy Father rejected this plea and told him to exercise his zeal in France, which had a sufficiently large field. "In this way, God will bless your work." The Holy Father named him Missionary Apostolic, and he afterward confided his future work to Our Lady of Notre Dame and St. Michael, his heavenly patron, at Mont Saint Michel. His fame both as a preacher and a saint had now become widespread.
A typical exhortation during his missions was, "Let no one work on feast days. Let no one open his shop, though I know bakers, butchers and secondhand dealers do, but they are robbing God. So I ask my dear fish-wives of St. Simplicien, butchers' wives and the rest, to continue the good example which they have set the whole town and so practice what they have learned in the mission."
During one of his missions he fixed a Crucifix on the ledge of the pulpit, then turned to his listeners, still without breaking the silence. He then went round the church with another Crucifix in his hand, which he offered them to kiss. "Behold your Savior," he murmured to each. "Are you not heartbroken to have offended him?" The people wept with unashamed repentance. But one day after Mass during the mission at Moncontour, he gave the people the Crucifix to kiss, but refused it to some of the nuns. Why this rebuke? Because they had not told their boarders to dress more modestly.
In April, 1709, a magnificent Calvary was constructed under St. Louis DeMontfort's leadership. This Calvary consisted of fifteen Cypress trees to represent the Our Fathers, and 150 fir trees to represent the Hail Marys. It was to be an arboreal rosary, with the scene of Calvary on the top. It was erected amidst the singing of hymns and the recitation of the rosary.
But on September 14, 1710, the day of the solemn blessing, St. Louis received a note from the bishop forbidding him to bless the Calvary. Then a few weeks later the governor ordered it to be demolished, which was due to Jansenist influence. However, the Calvary was restored in 1821, under the direction of the Montfort Fathers. Today it is a shrine; and pilgrims come there from all over France, and all over the world, to adore God and to revere His mother.
These disappointments were met with courage and resignation from the saint. Never left undaunted he continued to preach and convert sinners, going from parish to parish, even amongst bitter strife, always armed with the Crucifix and the rosary.
While Louis preached a sermon against the sin of intemperance, drunkards from the tavern near the church could be heard, mocking him in loud and vulgar shouts and songs. When he finished his sermon he went straight to the tavern to give them a severe tongue-lashing. Seeing words were not enough, he knocked over the tables and went to work with fists. All scrambled out somehow, and he warned, "Don't come back, it will be all the worse for you if you do." Every time he preached, thereafter, in the awakened town of Roussay, he found a most respectful and attentive congregation.
In every parish that he evangelized, he established the Perfect Devotion to the Blessed Virgin, also known as the Holy Slavery or the Holy Bondage of Jesus in Mary. This not for a select few, but for even the worst sinners in the place. The daily recitation of the rosary was also his great means of keeping the results of a mission aglow in the hearts of his hearers.
As he was passing through Challans, the priest would not allow him to preach, so the saint collected an audience in the marketplace. While holding everyone's attention, some outsiders raised the cry of: "It is the mad Montfort!" Much given to hymns he answered, "Brothers, let us sing the hymn about indifference to insults." In the time of the first weeks of his stay in LaRochelle, they tried to get rid of him in a less spectacular manner. A number of Calvanists poisoned some broth which he was to take after the fatigue of a long sermon. He drank it and only immediate remedies saved him. Henceforth his robust health, which had braved amazing hardships, was never the same again.
When St. Louis returned to Rennes he was met with a rather cold welcome. It seems the people of Rennes were given up to frivolity and Montfort was too strict to suit them. They hoped that the bishop would not give him faculties. They were to regret it later on, and Louis-Marie wept over the town he loved, as our Divine Savior wept over Jerusalem. He seemed to glimpse those flames which were soon, in December, 1720, to consume 850 houses in the great fire of that date. He bequeathed to the town of his youth an ironical, satirical farewell mixed with prophetic menace:
Farewell, Rennes, Rennes I grieve for you. Your woes are all to come And you are lost! Unless you break those chains You cherish so.

Themselves to please, To drink and dance, To play is all their care. Parent and child, Each goes his own sweet way. And what's the harm?

Beneath those smiles What sadness lies! What lack of modesty 'Neath a fair show! How oft a borrowed coat Is worn by pride.

And in the church They talk and laugh Who should know better. The libertine, The pagan, crowding out Rare piety.

Your answer is To him who blames: God will be merciful — He is so good; Nor ever turns away... And all must err.

Farewell, Rennes, Rennes I grieve for you!
Can we not hear the Divine Savior's words echoing in the background: "Jerusalem, Jerusalem, that killest the prophets, and stonest them that are sent to thee, how often would I have gathered thy children as the bird doth her brood under her wings, and thou wouldst not? Behold your house shall be left to you desolate. And I say to you, that you shall not see Me till the time come, when you shall say: Blessed is He that cometh in the name of the Lord." (Lk. 13:34,35).
We know how bold he was for God's sake; how he forbade dancing, stopped tippling, and suppressed Sunday fairs. This last he did at St. Pompain by leading a procession into the midst of it.
Montfort dictated to those of his followers, who longed to persevere, a rule of life in a long series of rhymes: From morning till night, everything is planned. We must dress modestly; there follow prayers, meditation, Mass, rosary, housework, tasks, prayers before and after meals, visit to the Blessed Sacrament, examination of conscience, confession and Communion at least once a month. Once a month, too, there should be an hour's adoration before the Blessed Sacrament. Finally there should be a special devotion to the Blessed Virgin, to St. Michael, to the guardian angels, and the souls in purgatory. This was the usual program.
It was in the year 1715 that Father DeMontfort recruited a priest who was suffering from paralysis on one side, asthma, and severe headaches, as a missionary in the "Company of Mary". His only reply to the priest's objections about entering due to his infirmities was "Follow Me. It is His will that you follow me. All your ills will vanish as soon as you begin to work for the salvation of souls. And you must make your first attempt at the mission in Vouvant." His prophecy came true to the letter. Father Mulot preached at Bouvant, heard confessions and in a few days was completely cured. He later became the first Superior General in the "Company of Mary", preached more than 220 missions and died in the odor of sanctity at the age of 66, and was venerated as a Saint.
Louis DeMontfort's health never recovered from the attempt to poison him at LaRochelle. In 1713, he fell very ill at LaSeguiniere. When barely convalescent he risked the fatigue of a journey in Paris in order to complete arrangements with the seminary of the Holy Ghost. September found him ill again, where he spent two months at a hospital in LaRochesse, enduring painful bladder trouble. When the pain was worst he would sing: "Vive Jesus, vive la Croix!" He recovered from this, but this illness had turned him into a walking skeleton. He was not long for this world.
On April 27, 1716, though his fever was running high, he was perfectly conscious and realized that death was not far, so he dictated his will to Father Mulot, signed it and then felt free. Yet there was one more matter to take care of. His congregation of missionaries was so small, so weak—only two priests and seven brothers. Father Mulot was weeping at the thought of losing his spiritual father, and what a loss it would be to the missions. Our dying saint took him by the hand and exhorted him to continue his great work. Father Mulot objected that everything was against him—his health, his lack of qualifications. But Father DeMontfort clasped his hand still more firmly and said, "Have confidence, my son. I will pray to God for you."
Around 8:00 p.m. on April 28, 1716, at the age of 44 years, Louis Marie Grignion DeMontfort peacefully passed away to God. His last words, "I have come to the end of my life—it is over now—I will never sin again!"
On, on, dear friends, to Paradise, God's Paradise on high! Whatever be our gain on earth, 'Tis surer gain to die!
St. Louis DeMontfort left us with a prophecy which still lingers in the air: "They shall be the true apostles of the latter times, to whom the Lord of Hosts shall give the word and the might to work marvels and to carry off with glory the spoils of His enemies. They shall sleep without gold or silver, and, what is more, without care, in the midst of the other priests, ecclesiastics, and clerics (Ps. 67:14); and yet they shall have the silvered wings of the dove to go, with the pure intention of the glory of God and the salvation of souls, wheresoever the Holy Ghost shall call them. Nor shall they leave behind them, in the places where they have preached, anything but the gold of charity, which is the fulfillment of the whole law. (Rom. 13:10).
In a word, we know that they shall be true disciples of Jesus Christ, walking in the footsteps of His poverty, humility, contempt of the world, charity; teaching the narrow way of God in pure truth, according to the Holy Gospel, and not according to the maxims of the world; troubling themselves about nothing; not acccepting persons; sparing, fearing and listening to no mortal, however influential he may be. They shall have in their mouths the two-edged sword of the Word of God. They shall carry on their shoulders the bloody standard of the Cross, the Crucifix in their right hand and the rosary in their left, the Sacred Names of Jesus and Mary in their hearts, and the modesty and mortification of Jesus Christ in their own behaviour.
These are the great men who are to come; but Mary is the one who, by order of the Most High, shall fashion them for the purpose of extending His empire over that of the impious, the idolaters and the Mohametans. But when and how shall this be? God alone knows.
As for us, we have but to hold our tongues, to pray, to sigh and to wait: "With expectation I have waited" (Ps. 39:2).
---
BIBLIOGRAPHY
1. Wisdom's Fool, Eddie Doherty, Montfort Publications, Bay Shore, N.Y.11706, 1975.
2. St. Louis DeMontfort, Eugene J. Moynihan, S.M.M., The Montfort Fathers, Port Jefferson, N.Y., 1948.
3. Saint Louis DeMontfort His Life and Work, George Rigault, The Montfort Fathers, Port Jefferson, N. Y., 1947.
4. True Devotion to Mary, St. Louis DeMontfort, Translation by Fr. Faber, 1941.
5. The Holy Bible, Douay Rheims Version, Approbation of his Eminence James Cardinal Gibbons, Sept. 1, 1899.
Current Issue
Recent Issues
Our Bookstore