May 1988
Print

Grin and Bear It
Just a line to say I'm living
that I'm not among the dead;
though I'm getting more forgetful
and more mixed up in my head.
At times I can't remember,
when standing by the stair;
if I must go up for something...
or have I just come down from there?
And before the 'frig' real often,
my poor mind fills with doubt.
Have I just put the food away,
or have I come to take it out?
Sometimes when it's dark outside,
with nightcap on my head,
I don't know if I'm retiring,
or just getting out of bed.
So if it's my turn to write to you,
there's no need in getting sore;
I thought that I had written twice
and I didn't want to bore.
Please remember that I love you,
and I wish that you were here;
now it's nearly mailing time,
so I must say 'Good-bye my dear.'
Here I stand beside the mailbow,
with my face so-o very red;
instead of mailing you my letter
I've opened it instead!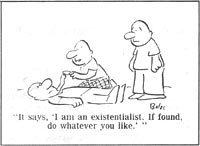 "It says, 'I am an existentialist. If found, do whatever you like.'"
The Cadillac of her Dreams
One day an especially sweet member of our Mass Group was delighted to find herself at an auction where she was the successful low bidder on the Cadillac of her dreams. Even though the car was ten years old and had travelled 97,000 miles, she began to be bothered by fears of pride and avarice. After Sunday Mass she asked Father if her "new" old Cadillac could possibly be an occasion of sin for her. After some thought Father declared sternly, "Venial sin, venial sin." But as he walked away, Father turned with a twinkle in his eye and said, "When it gets to 100,000 miles, no more sin!"
—(Contributed by Mrs. N.R., VA)
Current Issue
Recent Issues
Our Bookstore